Yuri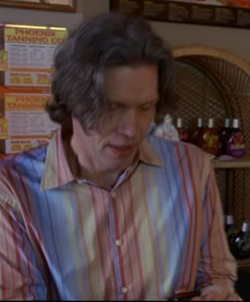 Profession
Phoenix Tanning's receptionist
Relationships
Unnamed Wife
Yuri was Phoenix Tanning's receptionist, he served Ashley Freund and Ashlyn Halperin.
Yuri's wife keeps bugging him during his shift. He chose to use his phone instead of the building's phone, because it has Caller I.D and when his boss found out his taking personal phone calls his boss gets mad at him. Yuri goes outside to get some reception. He use a lotion tube to prevent the door from closing. Then Ashlyn locked the front entrance. When Yuri heard both girls screams he immediately rushed to check Ashley and Ashlyn, but he was locked outside. With no one to help them, Ashley and Ashlyn lie in their beds getting burned alive.
Trivia
In the novel, Yuri's full name is revealed to be Yuri Yershov.
In the novel, Yuri's wife is called Tanya and thinks Yuri is going to go off with another woman "as soon as she's got her back turned"
Appearances
Community content is available under
CC-BY-SA
unless otherwise noted.