Agent Weine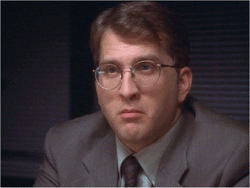 Also Known As
Agent Weine
If that's the case, Alex... why did you really get off the plane?
Weine, questioning Alex on how he get off the plane.
Agent Weine is an FBI Agent in Final Destination. He and Agent Schreck investigate the explosion of Flight 180 and became suspicious of Alex Browning, whom they believe he is a suicide terrorist.
Biography
Agent Weine lives in New York with Agent Schreck. They both work for the Federal Bureau of Investigation.
Final Destination

He and Schreck investigate the survivors about the plane explosion, especially visionary Alex Browning. At first, they thought that Alex was a suicide terrorist for knowing the plane explosion before it happens; later, they thought that he was a murderer for appearing in almost every survivor's crime scene. In the end, he and Agent Weine chase Alex to the woods to subjugate him, yet they only reached him when he was thrown off from an explosion by touching livewires to let Clear Rivers escape. Thus, Alex is cleared of suspicion.
Appearances
Trivia
In the Final Destination novelization, his first name was revealed to be Wesley, although this can't be considered as canon.