Veronica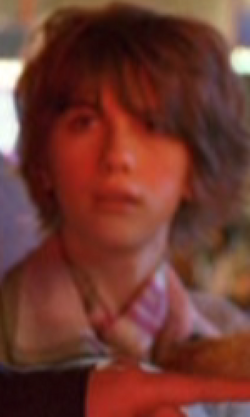 Veronica was Lewis's girlfriend, she was seen hanging around with Lewis in McKinley Park during his senior trip. Lewis won a big teddy bear at the "Test Your Strength" game booth, so Veronica helped him to carry it. Veronica was supposed to get on the Devil's Flight with Lewis, but she didn't enter at last, and she stayed outside the roller coaster, waiting for Lewis with the big teddy bear he won. Veronica was never seen again, and she didn't appear at Ashley and Ashlyn's funeral, so it's unknown if she is a McKinley High School student or not.
Trivia
Her name wasn't stated in the movie, and she doesn't even have any lines in the final version, but according to the script, her name was Veronica.
The reason Veronica didn't get on the roller coaster, was seen in a deleted scene, which was that Lewis couldn't find his pass, so he took Veronica's pass and got on the roller coaster. It's unknown whatever the scene consider canon, as Veronica was seen with Lewis outside the Devil's Flight, but not seen with him on the roller coaster in the final version.
In the novel it is stated that she wasn't able to get on the ride because of all the teddy bears that Lewis won for her.
Although Veronica had a line in a deleted scene, she wasn't credited, and the actress portrayed her remains unknown.
Community content is available under
CC-BY-SA
unless otherwise noted.