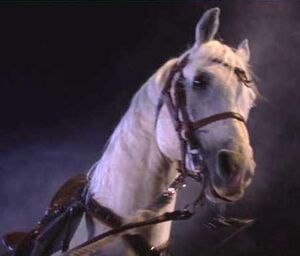 The Tricentennial Horse is a horse in the film Final Destination 3. The horse was standing during the McKinley celebration when he started to neigh loudly and create a fuss when all the fireworks began to go into the air. Suddenly, two pranksters placed two small sticks of dynamite at his hooves, which exploded. The horse, scared of the explosion, jerked sideways and his wooden stake (which was supporting the horse down) came loose. The horse began to run rampant, running into the crowd and knocking down a few pedestrians. Eventually, after Wendy notices a clue from her photo, the rope around the stake wraps around Julie's throat and she is dragged along the ground. While running, the horse hops over a harrow and just before Julie is impaled, Kevin cuts the rope around her neck with a sword and saves her. The cops eventually calm the horse down and tie him up to a flagpole.
Not much longer, the horse freaks out again and jerks away from the pole, breaking it in half and sending the dislodged object into the air, which impales Perry in the back and kills her. Lastly, as Kevin tries to calm the horse down, he kicks him with his hind legs, sending him toppling next to a barbecue. A shish-kebab is lodged into a propane gas pipe and a fire is started. Before Kevin's face is burned off, Wendy lunges at his body and knocks him out the path of the explosion, saving him as well.
Due to the horse killing someone on Death's list (and almost taking another two lives) its certain that he is a Servant of Death.
Community content is available under
CC-BY-SA
unless otherwise noted.