Steve Adams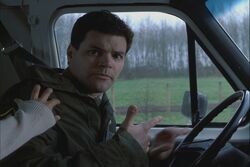 Also Known As
Deputy Adams
Origin
White Plains, New York
Profession
Police officer and New York state trooper
No! You can't do this to me!
Deputy Adams, to Isabella.
Deputy Steve Adams is a character from Final Destination 2. He is the deputy police officer who was assigned to arrest Isabella Hudson.
Final Destination 2
Deputy Steve arrested Isabella Hudson and forced to throw her in jail for a bogus charge of grand theft auto for her own safety. while on a van Isabella suddenly had her water breaks. Isabella announces the news to him and tells him to take her to the hospital.
During the drive, Kat Jenning's SUV blew a tire and almost came into collision with Isabella's van. Adams and Isabella miss the SUV, but Kat swerves off the road and crashes. Even though he wants to help, Isabella tells him to continue because the baby won't wait. Adams called for help before he continued into the hospital.
As she was giving birth to the child, Adams wanted to go away, but she stopped him as her husband was not there and she did not want to be alone in such a moment.
Appearances
Community content is available under
CC-BY-SA
unless otherwise noted.