Marcus Hudson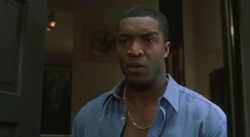 Origin
White Plains, New York
Hey, when you find her, tell her the kid's half mine.
Mr. Hudson, claiming that Isabella's baby wasn't his.
Marcus Hudson is the husband of Isabella Hudson.
Final Destination 2 (Deleted Scene)
Kimberly, Thomas and Clear went to Isabella's home to find her, only when they meet Marcus, her husband. He told them that Isabella wasn't there, because they had an argument. At the moment, a naked young woman called him inside the house, implying that this is the reason of their argument. He then said that he didn't believe Isabella's baby was his, but Kimberly told him that there's hope.
Appearances
Community content is available under
CC-BY-SA
unless otherwise noted.