Section heading
Edit
This is a list of alternate deaths in the Final Destination Movies.
Alternative Deaths
Edit
Olivia Castle : Laser destroyed two of her eyes. Then she fell on a jeep.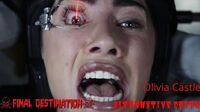 Isaac Palmer: Burnt to death by alcohol catching fire.
Hunt Wynorski: Electrocution of a falling electric line caused by a golf vehicle falls on a pool drain makes his blood gush through the pool filters
Lori Milligan: Crushed by a falling platform.
Janet Cunningham: Crushed by a falling platform.
Nick O'Bannon: Incinerated by car explosion.
Nadia Monroy: Throat slit by screws.
Ian McKinley: Body crushed, splattered entirely by cherry picker.
Alex Browning: Electrocuted and burned by a shock of electricity
Alex Browning: Killed by ceiling fan (2nd alternative death, off-screen)
Alex Browning: Decapitated by helicopter blade (filmed but never released)
Wendy Christensen: Ran over and splattered by train without the premonition.
Rory Peters: Gets dismembered and his jaw drops to his neck with blood coming from the corners of his mouth.
Ashlyn Halperin: Electrocuted by a malfunctioning tanning bed attempting to save Ashley.
Ashley Freund: Burned then electrocuted by a malfunctioning tanning bed alive.
Thomas Burke: Hacked to bits by wood chipper (non-canon).
Kimberly Corman: Hacked to bits by wood chipper (non-canon).
Nora Carpenter: Elevator going up and down decapitating her more brutally.
Lewis Romero: Head crushed faster and parts of his brain launched and Wendy's and Kevin's face after he says "What the fuck are you doing here, Fischer?"
Andy Kewzer: CO2 tank launched at him, pushing him hard, then falls out of him and taken guts out of him making his spinal column visible.
Erin Ulmer: Backed up to the nailgun because of dislodge pigeons.
Community content is available under
CC-BY-SA
unless otherwise noted.