Ken Browning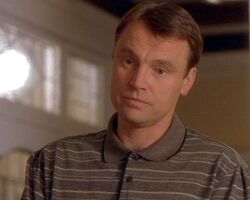 Full Name
Kenneth Browning
Origin
Mt. Abraham, New York
So, 17 on the loose, senior trip with your friends in Paris, 10 days in the springtime. Live it up Alex. Ya got your whole life ahead of you.
Mr. Browning, on his son Alex.
Kenneth "Ken" Browning is the father of Alex Browning and the husband of Barbara Browning.
Final Destination
He first appears when Alex is packing his stuff to go to the airport, then he comes to the airport to pick up Alex after Flight 180 blew up and drops Clear at her home. He later appears at the memorial at Alex's school and talking to Clear on the phone.
Community content is available under
CC-BY-SA
unless otherwise noted.