John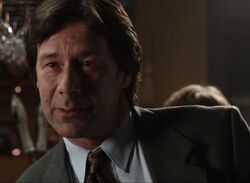 Cause of Death
Most likely crushed by plane landing gear.
Life's a Bitch!
John, to Nathan.
John was one of Presage Paper's factory workers. He was also a friend and co-worker of Roy Carson and Nathan Sears. It remains unknown whether or not he survived the Cocktails bar accident.
History
He was first seen before Nathan went to the company retreat of Presage Paper's employes. Roy was seriously disturbed that Nathan is taking some free days and it caused the argument between them which almost ended by fight. Fortunately, Sam and John intervened in time. Nathan was stopped by Sam, John tried to calm angry Roy and assured Nathan that they can continue in their work a few days without him.
Not long after the death of Roy in a freak accident intended for Nathan, John attends a memorial for Roy at the Cocktails Bar. Nathan is also in attendance, seemingly feeling guilty having 'robbed' Roy of his life. John thanks Nathan for attending, despite the animosity between him and Roy.
He then goes on to note the irony of Roy's Death, as the autopsy conducted on his corpse had revealed that Roy was suffering from an enlarged blood vessel in his brain, that would soon burst and kill him "any day now". As Nathan questions the sincerity of this fact, John jokes that "Life's a Bitch".
John walks away, and as Nathan begins to question whether or not he truly has escaped death, the landing gear from Volée Airlines Flight 180 crashes through the ceiling, crushing Nathan and killing him. It is unknown what truly happened to John, however it appears Nathan was the only casualty.
Appearances
Community content is available under
CC-BY-SA
unless otherwise noted.