Isabella Hudson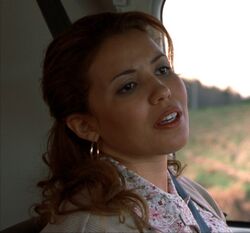 Full Name
Isabella Hudson
Also Known As
Isabella Cruz
Origin
White Plains, New York
What do you mean "grand theft auto?" This is insane.
Isabella, confused on why she was arrested.
Isabella Hudson (née Cruz) is a survivor of the Route 23 pileup in Final Destination 2. She was pregnant at the time of the disaster. She is the only survivor of Route 23 who is not being pursued by Death, as she was never meant to die at all, as evidenced by her survival in both the premonition and the actual incident.
Biography
Isabella resides somewhere in New York. She lived with her husband and she had a delivery to give birth to a baby.
Final Destination 2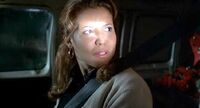 As she was waiting in her van to make a delivery,
Kimberly Corman
blocked traffic after having a vision about the terrible pile-up. Isabella got out of her car to complain about the inconvenience, just seconds before the accident happened just as Kimberly predicted. Later on, the other survivors of the pile-up believe that her unborn baby, who was never supposed to be born and never a part of Death's original design, is the key to their survival.
She is arrested by Deputy Adams and forced to stay in jail for a bogus charge of grand theft auto for her own safety. Isabella begins to think her husband had something to do with it and just as she threatens to sue him, her water breaks. Isabella announces the news to Adams and tells him to take her to the hospital.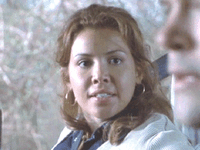 During the drive, Kat Jenning's SUV blew a tire and almost came into collision with Isabella's van. Isabella and Adams miss the SUV, but Kat swerves off the road and crashes. Even though Adams wants to help, Isabella tells him to continue because the baby won't wait.
In the hospital, Isabella begins to give birth when the nurses say the baby's having trouble. Kimberly, due to a vision, thinks that someone named Dr. Kalarjian is going to strangle Isabella. While Isabella is in labor, Kimberly, Officer Burke, and Clear try to stop the doctor from killing the baby. However, after Burke stopped her, they witness Isabella give birth to a healthy baby boy and has no idea who Kimberly and Tom are. Kimberly suddenly has another premonition that reveals that Isabella wasn't meant to die in the pile-up because she arrived at the last minute, and they are still in danger.
Trivia
In the script of Final Destination 2, Isabella is described as: ISABELLA CRUZ, 30 and VERY PREGNANT.
She is only one of two characters in Final Destination who was not meant to die in the opening disaster along with Molly that have significant roles in the movies though Molly eventually dies while Isabella survives.
Community content is available under
CC-BY-SA
unless otherwise noted.