Gino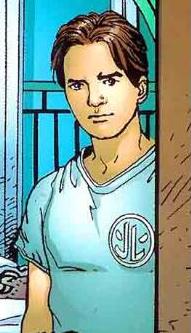 Cause of Death
Impaled in the mouth by a glass shard
Profession
College student
Gino is a character in the comic Final Destination: Spring Break. He is a survivor of the Hotel Grand Tzolk explosion and is roommates with Jeremy and Dreena. After Kris and Katie die in mysterious, graphic accidents, Carly Hagan and the others find Gino and his friends inside of a hotel room. They explain to her that they left the hotel after hearing her premonition, and that they were only a couple of rows ahead of her on the plane. Carly becomes shocked after realizing she inadvertently sketched out the path of the survivors' deaths. The next day, Carly and her friends go to the Mayan Ruins, where Gino finally realizes he's next to die. After visiting the ruins (where Carly runs into a shaman) they go scuba diving.
Gino is the third survivor of the Hotel Grand Tzolk explosion to die.
Death
Plunging into the water, Gino begins to swim to the ocean floor, taking a liking to some of the Mayan artifacts. As he is taking a picture of one, he fails to notice that part of one of the artifacts resembling an eel has broken off. The broken piece falls down and hits the valve on his oxygen tank. The sudden release of air shoots Gino up to the surface of the water, the boat the others are riding in right above him. With nothing to stop him, Gino's body shoots through the floor of the boat, which is made of glass, and one of the glass shards pierces him in the mouth.
Signs/Clues
The plane Gino was riding was number 1188.
While inside the ruins, Bryan kept muttering "La muerte tiene un diseño", which means "Death has a design."
When the scuba diving guide indicates how to use the oxygen release valve, he mentions that if any of them gets in trouble they can get a gradual ascent by slowly releasing the valve.
Community content is available under
CC-BY-SA
unless otherwise noted.