George Waggner
Origin
Mt. Abraham, New York
Cause of Death
Incinerated by an airplane explosion
Profession
High School Student (Formerly) football player
How do you think I feel having to look at you all the time?
George, to Tod about his yearbook photo.
George Waggner is a character in the film Final Destination. He is a high school student and one of the casualties aboard the ill-fated aircraft, Flight 180.
Biography
George resided in the town of Mt. Abraham, New York with his parents, Jerry and Linda Waggner, and his younger brother, Tod Waggner. He and Tod had been friends with Alex Browning since childhood, and they had been classmates through high school since then. He was studying at Mt. Abraham High, and was one of the students qualified to travel to Paris, France for the school's annual field trip. He is very serious, rude and barely conceited. He was also a high school jock and part of Mt. Abraham football team with Carter Horton and Dustin.
Final Destination
George and his brother Tod is always bickered with each other and he made fun of Tod. George took the cash their father gave them as a surprise and didn't share any with Tod, which sparked a small fight broken up by Ms. Lewton. Later, while getting on the plane and seeing a crying baby, George makes a remark saying, "It'd take a fucked-up God to bring down this plane." As he sat on the plane, it began to malfunction and exploded, killing him.
However, this hasn't really happened yet, it was only in Alex's premonition.
Death
As Alex begins to freak out about the plane exploding and gets thrown off, George tells his brother Tod to go check up on him. Tod agrees, while George stays on the flight. Just as Alex predicted, it exploded and George was killed with the others.
His death started the anger of the Waggner household towards Alex.
Signs/Clues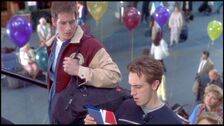 Alex tells his mom not to rip off the tag from a previous flight because it's good luck. She rips it off anyway.
A man approaches Alex and tells him, "Death is not the end."
The departure time was the same as Alex's birthday: 9:25.
One of the signs within the flight schedule has a broken wire.
In the terminal, Rocky Mountain High is playing, by John Denver, who died in a plane crash.
Before Alex gets on the plane, he sees a van. It's number is 666 - a number that associates with the devil.
Final Destination 5
George is seen briefly in the the events of Final Destination 5 before the Flight 180 explosion.
Appearances