Welcome to the Final Destination Wiki
Your number one source for information about the characters, novels, and everything about Final Destination.

Want to post Final Destination-related works or read fanmade original content?
Check out the Final Destination 6 or Final Destination Fanfiction Wiki!
Movies
| | | | | |
| --- | --- | --- | --- | --- |
| FD Characters | FD2 Characters | FD3 Characters | FD4 Characters | FD5 Characters |
Featured Video
Social Media
Featured Character

Alexander Theodore "Alex" Browning
 is the protagonist of
Final Destination
, and the visionary of the Flight 180 explosion.
Read more...
Featured Article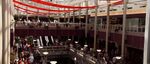 The
Springfield Centre Mall
is a shopping mall located in
McKinley, Pennsylvania
that contains several venues, including a movie theater called
Tagert Theatres
. On January 13, 2009, McKinley Speedway survivor
Nick O'Bannon
had a premonition of a deadly gas explosion in the mall in which several people died and stopped the disaster from occurring, saving countless ill-fated shoppers.
Read more...
Wiki News
January 11, 2022

Jon Watts will be served as producer.

October 25, 2021

Lori Evans Taylor was announced to write the film.

October 5, 2020

Creator Jeffrey Reddick confirms that the sixth film had been in the works during the COVID-19 pandemic.

March 16, 2020

Final Destination 6 announced instead for a reboot.

July 13, 2013

Final Destination 3 and Glee star Cory Monteith passed away

January 7, 2013

FD2 and TFD's director David R. Ellis passed away.

December 25, 2011

Final Destination 5 is released on DVD!

August 12, 2011

Final Destination 5 comes out in theaters!
Recent Blogs
Lakerfan
•
I've been taking this very seriously throughout the decades and the one thing I could tell about was what really happened a …

Phuc1477
•
I want to add a quote said by somebody in FD: Dead Hand's Man mentions Alex Browning in his page but I can't seem to find an…