Welcome to the Final Destination Wiki
Your number one source for information about the characters, novels, and everything about Final Destination.
Movies
| | | | | | |
| --- | --- | --- | --- | --- | --- |
| Final Destination | Final Destination 2 | Final Destination 3 | The Final Destination | Final Destination 5 | Final Destination (Reboot) |
| | | | | |
| --- | --- | --- | --- | --- |
| FD Characters | FD2 Characters | FD3 Characters | FD4 Characters | FD5 Characters |
Featured Video
Polls
Do you want a "Final Destination 6"?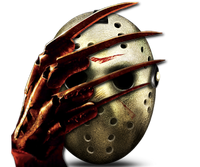 Featured Character
Samantha Lane
Samantha Lane was a character in The Final Destination and a survivor of the McKinley Speedway crash. She was a hot MILF (Hunt's words), and she had two sons and a husband, none of which were meant to die in the crash.
Samantha was the third survivor of the crash to die. Chronologically, she was also the thirty-ninth survivor to die in the entire series.
Read more:
Samantha Lane
Featured Article
Servant of Death
A servant of Death refers to any person, object, or item that is associated with Death, specifically whenever it attacks a victim. Some of these servants appear out of nowhere and are only brought about to strike someone off Death's List. Others are working for Death unknowingly and unintentionally cause the death of someone on Death's list. Servants can be found all throughout the Final Destination franchise.
Death's servants can be humans, animals, or objects, knowingly or unknowingly. Below are some pictures of some servants that were available.
Read more: Servant of Death
Wiki News
Jan 11, 2019
Final Destination reboot has been confirmed!

May 2, 2016
Final Destination 6 confirmed by Tony Todd!
July 13, 2013

January 7, 2013

December 25, 2011

August 12, 2011
Blogs
Create blog post
Blogs
With the addition of fanfiction stories to the wiki, many popular pages will have major edits. Most of these are characters …

Read more >

Apparently, I got the Lucky Edit badge for making the 55,000th edit on this wiki! I am now ranked #50 on the leaderboard wit…

Read more >
See more >