Ellen Kalarjian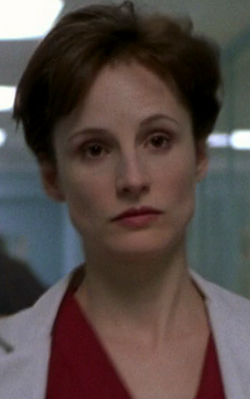 Full Name
Ellen Kalarjian
Also Known As
Dr. Kalarjian
Origin
White Plains, New York
Five CC's of narcodon. I want her stabilized and prepped for ICU..
Dr. Kalarjian, on Kimberly while CPR being performed on her.
Dr. Ellen Kalarjian is a character in the film Final Destination 2. She is a doctor at Lakeview Hospital that Kimberly saw briefly in a vision.
Final Destination 2
After Eugene was in a car accident and Isabella Hudson was sent to the hospital during labor, Kimberly, Officer Burke, and Clear went to the hospital to stop the doctor from killing Isabella's baby. After Burke encountered her walking away from the elevator and stopped her, they witnessed Isabella give birth, only for Kimberly to realize she wasn't supposed to die in the pile-up. Kalarjian was later seen pushing a crash cart after an explosion killed Clear and Eugene, and again resuscitating Kimberly after she drowned herself.
Final Destination 3
Dr Kalarjian is mentioned in an alternative ending in a newspaper saying that she confirmed the deaths of Officer Thomas Burke and Kimberly Corman. However this is an alternative scene which it's considered non-canon.
The Final Destination
Three years later, Pam Smith was killed instantly at Jared's Hardware and Officer Perry was badly injured. Officer Perry was rushed to Lakeview Hospital, but he was pronounced dead on arrival by Dr. Kalarjian.
Appearence