Elle Dana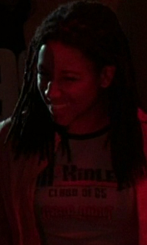 Portrayed By
Nerissa Tombola
Origin
McKinley, Pensyllvania
Cause of Death
Mangled by a roller coaster derailment
Profession
High School Student
Elle Dana is a character in Final Destination 3 , and she was a McKinley High School student.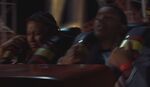 Elle went to the amusement park to celebrate her senior field trip with her friends, and she was one the casualties of the Devil's Flight derailment.
Elle Dana was the sixth casualty of the Devil's Flight incident to die.
Signs/Clues
Wendy takes a picture of a ride called HIGH DIVE. The V light goes out, and it reads HIGH DI E.
Before entering the ride, a sign said, "No exit after turnstiles. I'll see you soon." with an image of the devil next to it. "I'll see you soon" is the tagline of the mortician in both Final Destination 1, 2 and 5.
Jason tells Wendy "Meet you at the end." while on the coaster, which could mean at the end of the movie when Wendy dies on Train 081.
Wendy takes a picture of Jason which reveals a blurred image of a rollercoaster heading down the tracks as though it were about to crash.
Ironically, Tony Todd, who portrayed the mortician in the previous films, is the voice of Devil's Flight. He also says "You may never return from Devil's Flight."
Jay tells Wendy, "The real fear of these rides comes from having no control."
Trivia
Elle has a friend named Tom who wrote her a note that said "I miss you Dana, from your pal, Tom"
Community content is available under
CC-BY-SA
unless otherwise noted.