Cause of Death
Burned sucked out of the plane and then fell to death
Profession
Mount Abraham High School student
Norman ''Dustin'' Bava was a Mount Abraham High School student, and a casualty of the Flight 180 explosion.
Final Destination
Dustin was present when Carter Horton bullied Billy Hitchcock outside the airport, right after they got off from the bus. Later inside the airport, Dustin was seen followed the group, and listening to Larry Murnau's french. Before boarding Flight 180, Dustin approached when Carter bullied Billy again. Dustin smiled at Carter, and Carter patted him as a replied, then both of them walked away. It can be assured that they were friends. Dustin sat on the left side of the plane, in the same row with Ms. Lewton. During the explosion, Dustin's face had burned into black, and some of his hair even burned away. But he didn't died yet, until the window side was destroyed, and he was the first one to fall out the cabin, following by the two students who sat next to him.
Death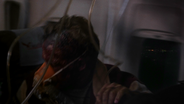 Dustin was still alive, and he heard Alex shouting about his premonition. Dustin didn't get off the plane, and he remained on it when it took off. the plane blew up and killed him.
Trivia
Dustin was the only non-speaking casualty on Flight 180 had been identified by name.
Dustin wore a same Mount Abraham High School jacket with Carter Horton and George Waggner, and his name was seen on his jacket. The three were the only students who was seen wearing the school jacket, but only Dustin remained wearing it on the plane, and both Carter and George had took it off.
Dustin's name wasn't identified on the plaque, which listed the 39 Mount Abraham High School students and teachers who killed on Flight 180. Unless Dustin wasn't his real name, it consider an error. But the news had mentioned there were 40 students killed in the disaster, so Dustin maybe the one whose name didn't carved on the plaque in unknown circumstance.
Dustin was named after the actor Dustin Brooks, who portrayed him.
Appearances