Daniel Lane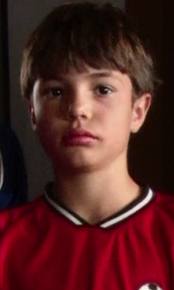 I'm first on "Atomic Destroyer"!
Daniel, after his mom gives him and his brother some money to play video games.
Daniel Lane is the mischievous son of Samantha and Edward Lane.
Biography
Daniel has an Irish accent, he was born in Lakeview, New York, but was resided in McKinley, Pennsylvania, with his parents and older brother Ryan.
In the film
In The Final Destination, he and his brother Ryan are (unknowingly) servants of Death. He and Ryan made a contest to see who could hit a sign with a rock. A lawn mower ran over one of the rocks, which propelled the rock into Samantha's eye, killing her. The witnesses were Samantha's children and the salon's receptionist who see it in horror. According to the newspaper that reported Samantha's death, the witnesses were receiving counseling after the incident, so it can be assured that Daniel was one of them.
Trivia
He is called "Luke" in the official script (the rest of his family have the same they do in the movie).
His full name, along with his brother and father's also came from an early press release.
The numbers he and his brother have on their shirts is 9 and 20, 9x20= 180.
He, his brother and father survived the premonition, and thus were not targeted by Death later on (this is made more obvious in the script).
Community content is available under
CC-BY-SA
unless otherwise noted.