Barbara Browning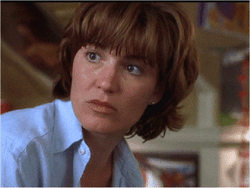 Full Name
Barbara Browning
Origin
Mt. Abraham, New York
Where would you get a nutball idea like that?
Barbara, after Alex tells her not to rip off the tag from a previous flight because it's good luck, but, she rips it off anyway.
Barbara Browning is the mother of Alex Browning.
Final Destination
Barbara appears and preparing her son's clothes for his retreat. As she was about to rip off the tag, Alex tells that it is for good luck from his dad Ken but she rips it off telling him it was a nutball idea. She appears in the airport with Ken and goes to the airport to Alex after the plane explodes then takes him home. She later appeared at the memorial with Ken and Alex.
Trivia
Barbara was named after the actress Barbara Tyson, who portrayed her.
Community content is available under
CC-BY-SA
unless otherwise noted.