Amber Regan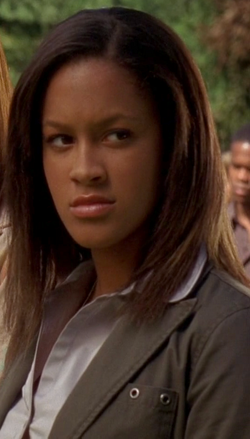 Last Seen
Final Destination 3
Origin
McKinley, Pennsylvania
Status
Alive
Deceased (earlier script)
Cause of Death
hit in the face and body by dumbells and weights (earlier script)
Profession
high school student
Julie, look who I got to sign my yearbook.
Amber, showing to Julie her yearbook.
Amber Regan is a young African-American girl in Final Destination 3. She is best friends with Julie Christensen and Perry Malinowski.
Biography
Amber lived in McKinley, Pennsylvania and is friends with Julie Christensen and Perry Malinowski. She was a sophomore student. Amber and her friends attended at the amusement park despite being sophomores themselves.
Final Destination 3
At first, it is suspected that she was the on the ride with Julie. Right after Julie is nearly killed, Amber runs over to help and comfort Julie. Wendy asks her who was sitting with her. Perry looks straight into Amber's eyes before getting up. Perry is then impaled and blood splatters all over her. Amber then runs off, screaming in horror and covered with blood. She did not die as she was not on the rollercoaster.
Trivia
Amber was originally going to be one of Death's victims. In the script, Amber would have sat next to Lewis Romero on the rollercoaster. Her death would involve a treadmill, and it would have malfunctioned, going way too fast, and making Amber fall and throwing her against a wall. A shelf next to her breaks, and weights and dumbells fall on the treadmill, and launch towards Amber's face and body, killing her. But her death looks too much like Lewis's, so this storyline was cut.
If Amber's death was kept, she would have been the third survivor to die. However, she was replaced by Frankie Cheeks.